Practical Gemmology
Basic operation of the standard gemmological equipment used to identify gemstones and their imitants. Handling of the more common gemstones. Chance to test gemstones.
View all Courses
COURSE OUTLINE
Operation of the following gemmological instruments:
Hand lens & tweezers
Microscope
Refractometer
Dichroscope, Chelsea colour filter, diamond probe
Specific gravity
Ultra violet light
ESSENTIAL STUDY FOR
Lapidary
Faceting
Gem collectors
Overseas buyers
Second hand dealers
Gem enthusiasts
Prospective Diploma in Gemmology students
COURSE DATES, FEES & ENROLMENTS
Courses are provided by Gem-Ed Australia and individual State Divisions. Select a division below to view upcoming course dates, fees and to enrol.
offerred by the following
Other courses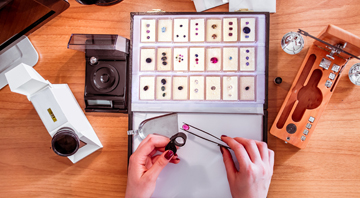 A part-time two year (equivalent) diploma course comprising of scientific study in order to identify faceted and rough gem material (gemstones).
Learn More
View all Courses